1. Elf
this movie is so great! I could watch it multiple times in a season (and I totally have).  It's got such great one liners like "You sit on a throne of lies!" and "You smell like beef and cheese, you don't smell like Santa!" and "So, good news! I saw a dog today!  Have you seen a dog? You probably have"
CLASSIC!
2. Love Actually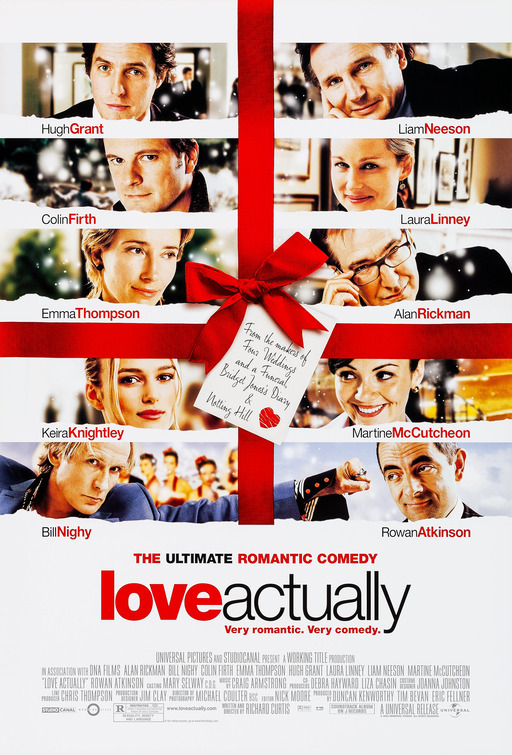 It's like a requirement that I watch this movie every year.  There was one year where I had it on loop for a couple of weeks.  I could watch it again and again, and I always find something new to take away from it.  Love Actually is amazing.
3. A Muppet Family Christmas
This movie is all the best things about Christmas and the Muppets put together.  First of all, it has ALL OF THE MUPPETS (at that time) in the SAME PLACE!  Sesame Street is there, all the Muppets from the Muppet Show AND FRAGGLE ROCK!  The songs are amazing. The storyline is great. EVEN MUPPET BABIES ARE SHOWN!  This movie is so great.  Another must see
4. any Chrismukkah episode of The O.C. (but especially the first one)
Ok, so I know that this isn't TECHNICALLY a movie, but hear me out.  The O.C. is amazing. Christmas episodes of tv shows are amazing. Therefore, the Chrismukkah episode of The O.C. is amazing!  Plus, Seth Cohen! You really can't go wrong!
5. Home Alone
Another classic from when I was a kid.
6. The Santa Clause
I loved this movie as a kid! Though, as an adult, I find that kid in the movie to be really annoying

Weird how that happens …
7. Olive The Other Reindeer
This is probably one of the cutest little Christmas movies I've ever seen.  Olive (who is voiced by Drew Barrymore), is a dog that is not like any other dogs.  She doesn't like chasing cars or barking or anything.  On Christmas eve she hears on the radio that one of the reindeer is hurt, and Santa says he'll have to rely on All Of the other reindeer, she thinks that he means her!  So she goes on an adventure to save Christmas, with the help of a penguin, and against the wishes of a mean mailman.  IT'S SO CUTE! If you haven't seen it, you really have to!!
8. The Muppet Christmas Carol
The classic Christmas Carol story, told with Muppets.  Which means amazing! PLUS, there are songs.
9. The Nightmare Before Christmas
I just love the combination of Halloween and Christmas.
10. Santa Claus: The Movie
This is another one that we watched growing up.  Dudley Moore plays an elf.  It's about the story of Santa Claus, and how they try to get him to sell out.  I remember it being good, but I think I'll have to give it another watch this year because I don't really remember it

So, apparently I have a lot of tv watching to do this month!
Tell me what your favourite holiday movie (or tv show) is in the comments!
xoxo,
Alysa