I personally LOVE Valentine's Day.  I always have, even when I was single.  I didn't always have one person to give love to, but I shared with my friends and family!  I think that Valentine's Day is supposed to be a happy day, so I wanted to share that happiness and love with those around me.
Here are some ways you can share some Valentine's Day happiness and love with those around you:

(source)
1. Give out Valentines!
Whether you give out homemade valentines (like I did last year), or you want to give out store bought ones (there are SO many cute ones, you can even find some great ones at the Dollar store!  One year, I found some My Pet Monster ones  at the dollar store nearest to me, and it was pretty awesome).  Receiving a sweet little note is always appreciated, even if it's accompanied by a cheesy quote like "I choo-choo-choose you!" or "You're Neat!"

2. Bake something
This one is super easy, and super fun.  Who doesn't like baked goods, really?  Sometimes the best gifts are the ones you made yourself, and a little bag of cookies or a cupcake is such a great little pick-me-up.  Plus, if you want to make lots, just double the recipe and it won't take longer to bake!

3. Dress up
I think that Valentine's Day is one of the most fun days to dress up for!  You get to wear pink and red and purple with hearts.  If you're in the spirit of the holiday, other people will get into it as well.  There's something about participating in dressing up for a holiday that gets others wanting to be involved with it, too.  It helps others get into it!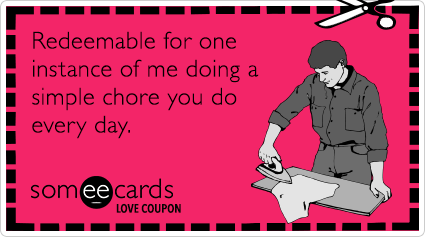 (source)
4.  Help out
This one is something that can be really easy, but can also make a HUGE difference in someones day.  Whether you live at home with your family, with roommates, or with your significant other, it would be so easy to do some kind of small chore for them!  It doesn't have to be a major production, either.  It's the little things that can mean the most.
(source)
5.  Give hugs
This one is pretty self explanatory.  Hugs not drugs. Hugs not bugs. etc! But don't just go up to random people and hug them, ask them if they'd like a hug first!!
(source)
6.  Plan something
Hang out with your other single friends! You could get everyone together to go to a restaurant, or else invite everyone over for a movie night! It doesn't have to be elaborate, it can be super simple.. but it's nice to be able to hang out with friends either way :)
xoxo,
Alysa